Magnetic, elegant, multipurpose!

The Cubenest plastic 3in1 Wireless Magnetic Charger is designed to charge three devices simultaneously. With two joints, you can adjust the combination and inclination to suit your needs. Keep your desk tidy without unnecessary cables! The product is MagSafe compatible.

The charger supports fast charging for Apple Watch 7th, 8th and 9th generation and Apple Watch Ultra 1st and 2nd generation. The flip-up charger conveniently charges your Apple Watch with all types of bracelets.

Most of us wants to protect their phones and camera lenses with a case. Some cases do not fit perfectly on flat surface chargers. We've developed the raised charging pad that you can achieve perfect magnetic alignment even if your phone has a lens protection case.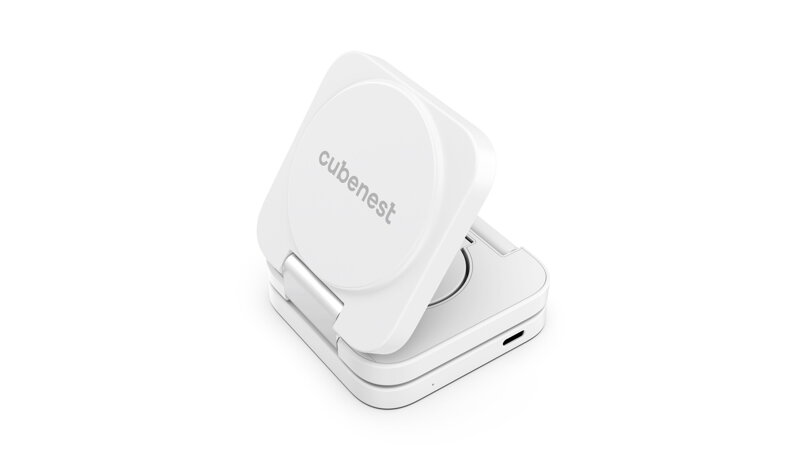 Foldable MagSafe charger 3in1
How you choose to fold your charger is completely up to you. Do you prefer it straight? Or in the roof position? Or do you want to play around with it a bit and make it into a bridge? There are plenty of options, the choice is yours!
Thanks to its small size, you can take the charger with you almost anywhere without hassle. Thanks to its sleek design and two joints, you can fold it exactly as you need it. Elegant design and high quality materials will perfectly complete any desk.
360° rotation - phone in portrait or landscape mode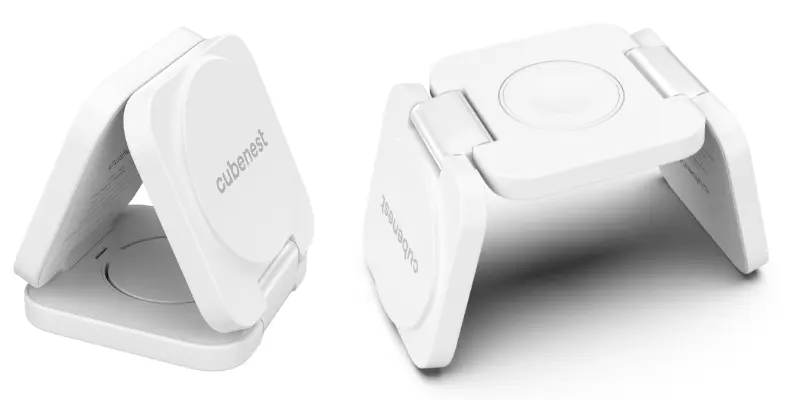 Convenient for daily activities...
You'll always have your phone display in sight so you won't miss any notifications or incoming calls. The body of the stand looks elegant and takes up minimal space on your desk.
It also charges AirPods and Apple Watch!
Compatibility
Magnetic charging holder: iPhone 12 Pro Max, iPhone 12 Pro, iPhone 12, iPhone 12 mini, iPhone 13 Pro Max, iPhone 13 Pro, iPhone 13, iPhone 13 mini, iPhone 14 Pro Max, iPhone 14 Pro, iPhone 14 Plus, iPhone 14, iPhone 15 Pro Max, iPhone 15 Pro, iPhone 15 Plus, iPhone 15
Wireless charging pad: AirPods 2nd Generation, AirPods 3rd Generation, AirPods Pro, AirPods Pro 2nd Generation and other Qi-enabled devices
Apple Watch charger: compatible with Apple Watch Ultra 2/9/Ultra/8/7/6/5/4/3/2/1/SE 2/SE
Parameters
Input: 5V/2A, 9V/2,22A
Output: 5W/7,5W/15W/20W
(The charger can charge your iPhone and other smartphones up to 15W and Apple Watch up to 5W.)
Compatible with all devices supporting wireless charging technology
Safety protection: Over-charge, Over-Voltage, Over-heat, Short-circuit
Material: plastic
Weight: 148 g
Dimensions: 68 x 68 x 29 mm
In the box
Wireless magnetic charger 3in1, USB-C to USB-C cable (1m)
What is the difference between the E310 MagSafe Charger and the S312 Pro?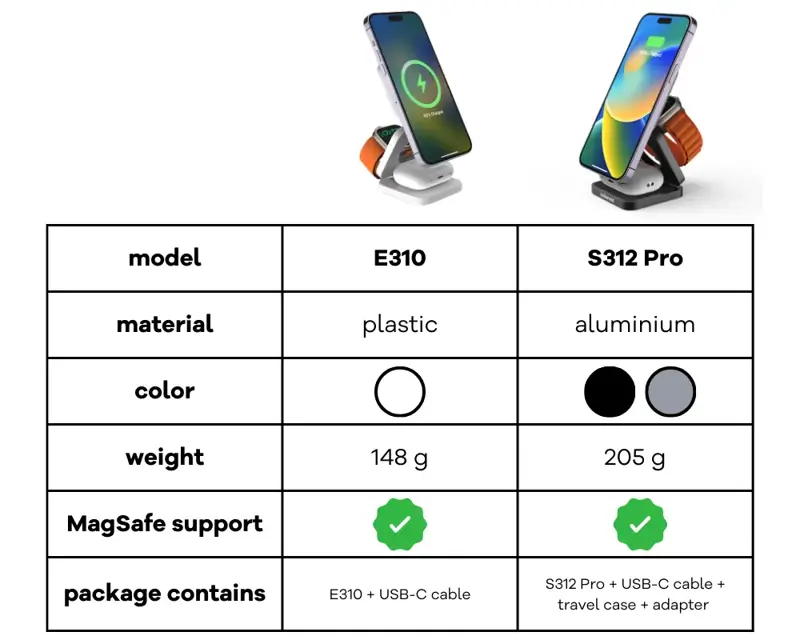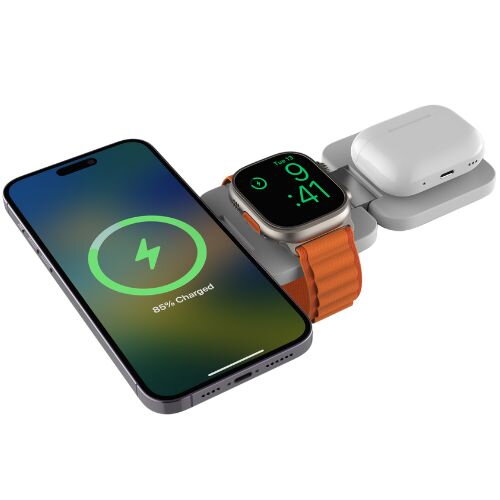 Cubenest 3in1 Foldable Magnetic Wireless Charger E310
65,99 €
54,54 € excl. VAT