Cooling MagSafe Car Charger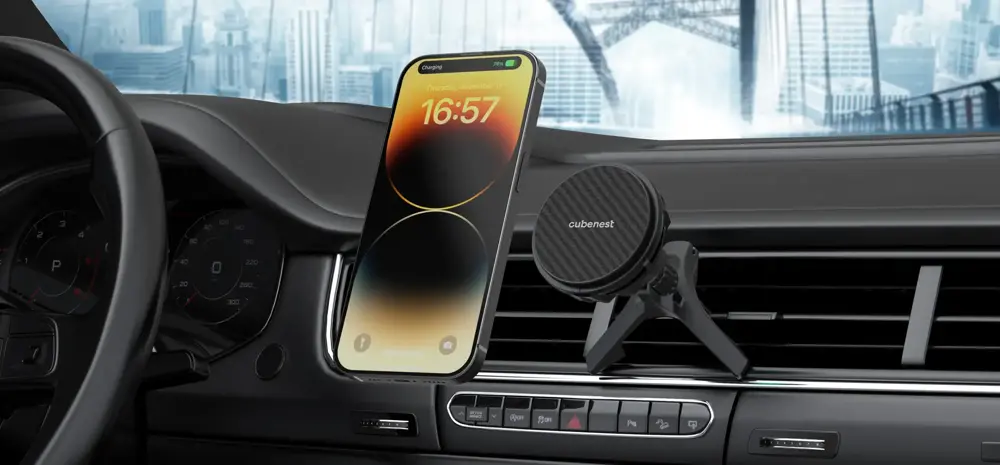 You know how it goes. You arrive at your final destination, getting lost in the alleys of a holiday town, desperately searching for the right address of your accommodation when suddenly a notification pops up on your screen about your phone overheating. That's a thing of the past now! Our magnetic car charge is equipped with an active cooling chip, takes care of keeping your phone at the optimal temperature, ensuring it runs smoothly at all times. Always keep it ready at 100%.
This charger utilizes an advanced internal semiconductor cooling chip and an efficient air fan. It automatically maintains the perfect temperature for phone and the charger and guaranteeing fast and stable wireless charging without the risk of overheating your iPhone while charging.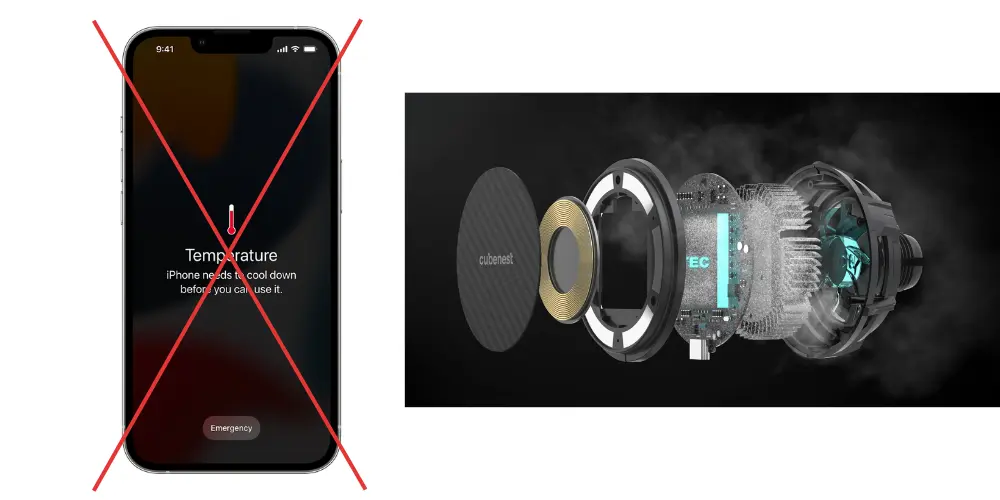 With its unique 4-point mounting system, the holder is compatible with nearly all types of fans. Moreover, the package includes a 1m USB-C to USB-C cable that delivers a maximum power output of 60 W.
SAFETY
Strong magnet (1,4 kgf) firmly holds your phone
Bendy or bumpy roads are no problem for the magnetic charger and mount, your phone always stays firmly in its place
Protected from overcharging, overheating & short-circuit protection
CONVENIENCE
Strong magnet automatically attaches to phone when close by
Rotates in any direction
Phone can be removed by one hand only, no need to unplug charging cables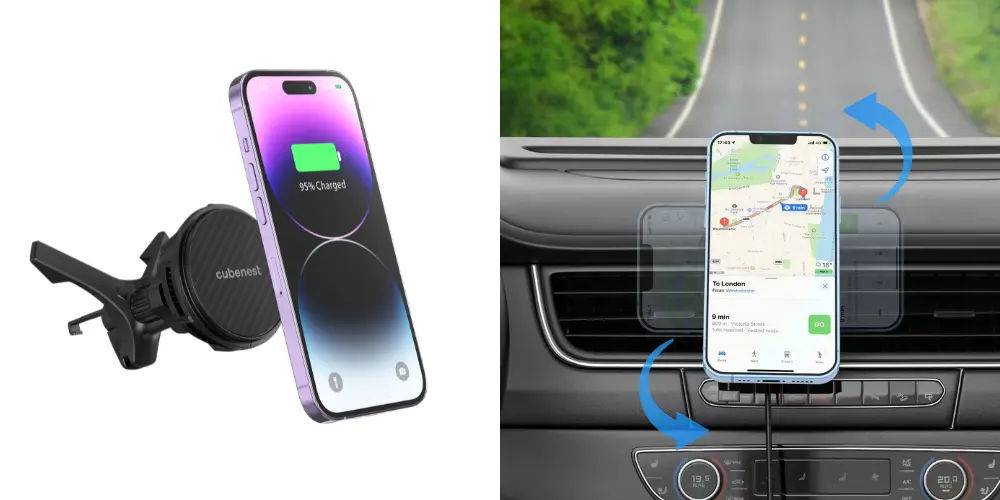 Cubenest brings innovation, convenience and reliability. Accessories designed by this brand put emphasis on detail and manufacturing and are a handy companion at home, in the office or when travelling.
PARAMETERS
Input: 5V=2A, 9V=2A
Output: 5W/7.5W/15W Max.
(the charger will charge your iPhone and other smartphones up to 15W)
Safety protection: Over-charge, Over-Voltage, Over-heat, Short-circuit
Main material: Carbon Fibre and PC
Requires car power adapter 15W or higher (not included), we recommend PD car charger 45 W
Weight: 110 g
Dimensions: 66 x 66 x 93 mm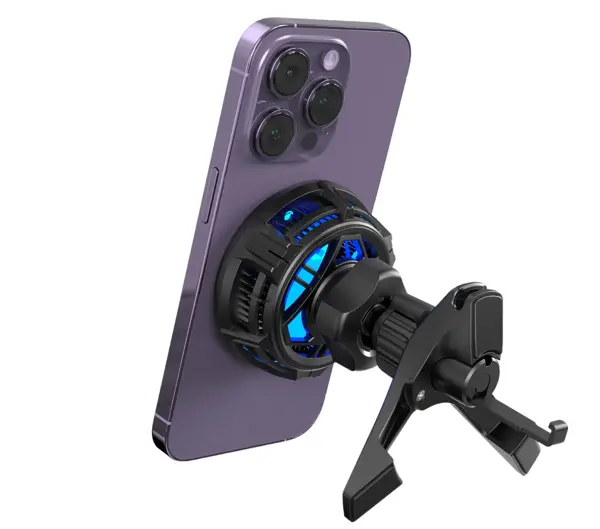 MagSafe compatible
Compatible with:
iPhone 12 Pro Max
iPhone 12 Pro
iPhone 12
iPhone 12 mini
iPhone 13 Pro Max
iPhone 13 Pro
iPhone 13
iPhone 13 mini
iPhone 14 Pro Max
iPhone 14 Pro
iPhone 14 Plus
iPhone 14
iPhone 15 Pro Max
iPhone 15 Pro
iPhone 15 Plus
iPhone 15
(Use MagSafe compatible accessories such as phone case for other phone models)
In the box
Cooling magnetic car charging mount, air vent flip, USB-C to USB-C cable (1 m) 60W
!Requires car power adapter 15W or higher (not included)!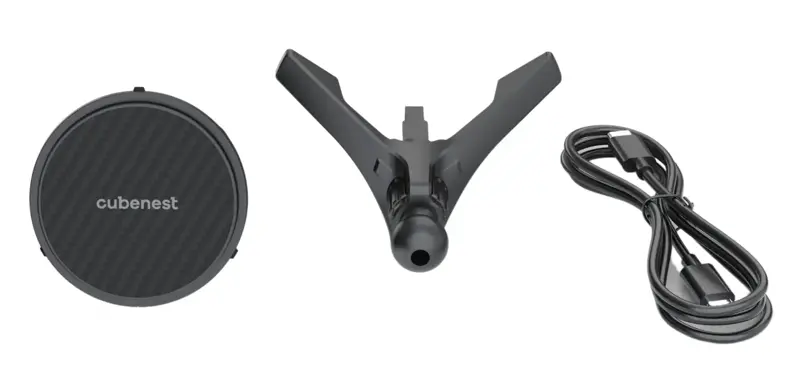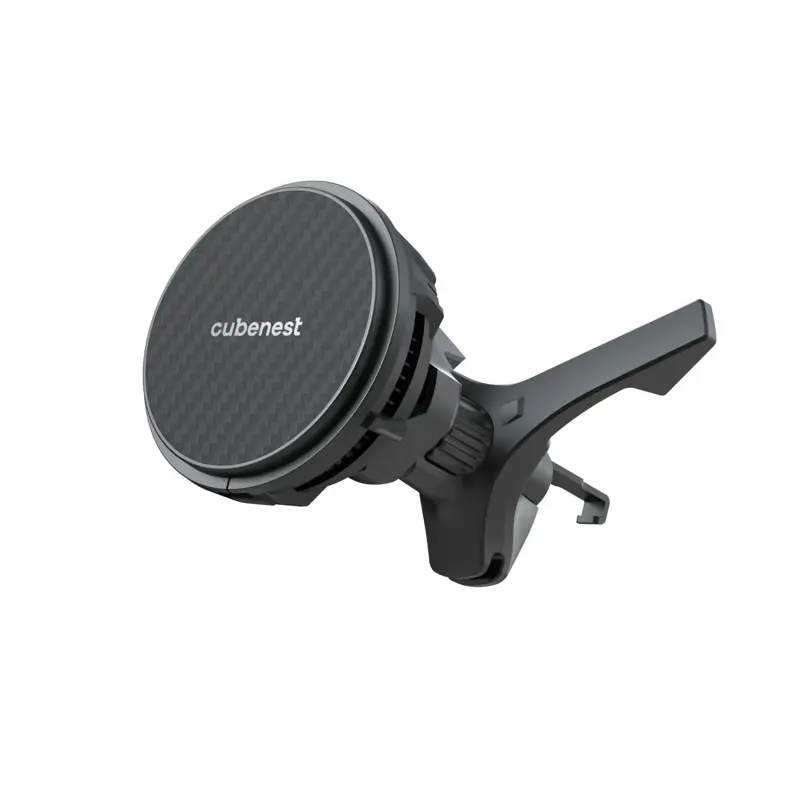 Cubenest Cooling Magnetic Wireless Car Charger S1C2
39,99 €
33,05 € excl. VAT