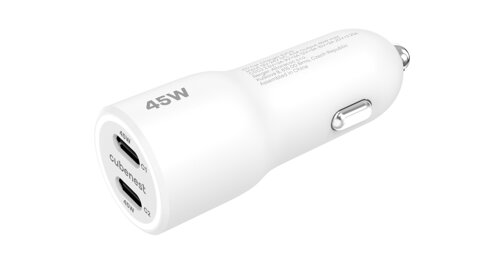 The car charger is the perfect solution for charging on the go. Whether you're at a business meeting, conference, or just out on a trip, with this compact charger all your devices will always be charged up and ready to use. If your laptop battery dies during a meeting, no need to stress, the charger will allow you to quickly and easily recharge your battery on the way to the next one.

It's equipped with the latest fast-charging technology which ensures maximum energy and time efficiency. Two USB-C ports allow for simultaneous charging of 2 devices (laptop, tablet or phone) up to 45 W power output. This means you'll never have to wait for one device to charge before you can start charging the other one.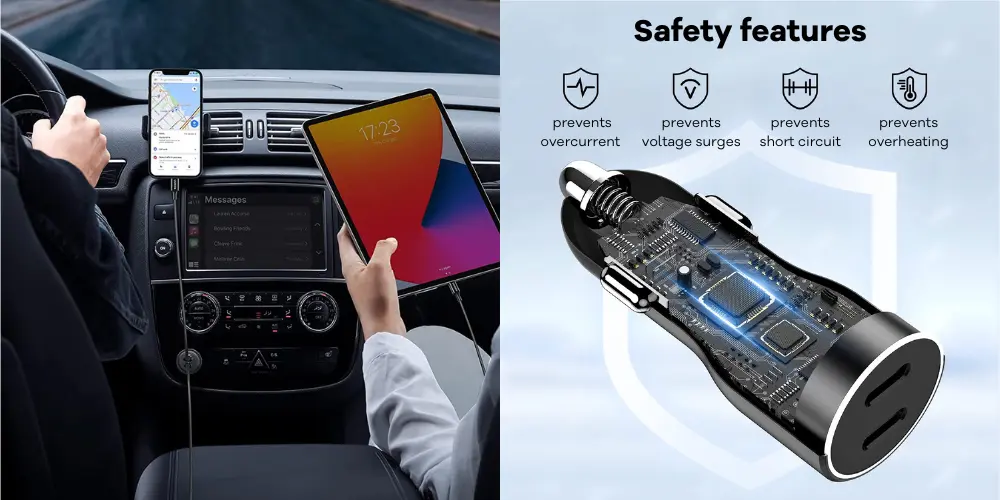 Safety is our top priority which is why we have equipped the car charger with a range of protective features including overcurrent protection, surge protection, overheating protection, and short circuit protection. With these features you can be sure that your devices are always safe.
Power Distribution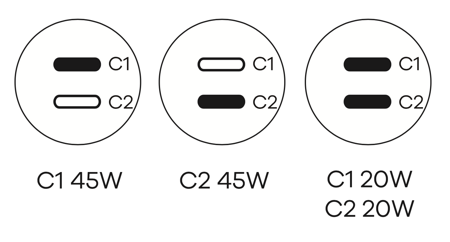 Parameters
Input power: 12-24V DC 4.5A
Output power of USB-C1: 2.5V/3A, 9V/3A, 12V/3A, 15V/3A, 20V/2.25A
Output power of USB-C2: 2.5V/3A, 9V/3A, 12V/3A, 15V/3A, 20V/2.25A
Dimensions of the charger: 64.6 x 26.3 mm
Weight: 19 g
Thermal, overvoltage, current, and short-circuit protection.

Compatible with fast charging protocols
PD 3.0, PD2.0, PPS
QC4.0+, QC 3.0, QC2.0
DCP, FCP, SCP, AFC
Apple 2.4, Samsung 2.0
BC1.2, PE2.0, PE1.1
In the box
Car charger E2C0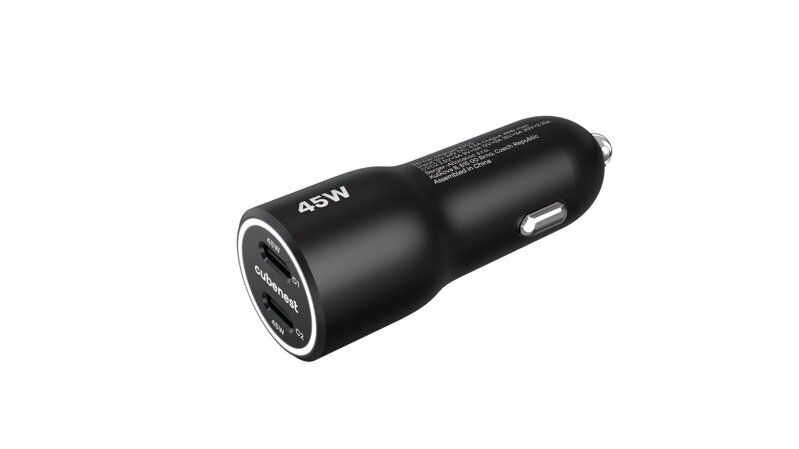 Cubenest PD Car Charger E2C0
17,99 €
14,87 € excl. VAT