A travel adapter for charging worldwide!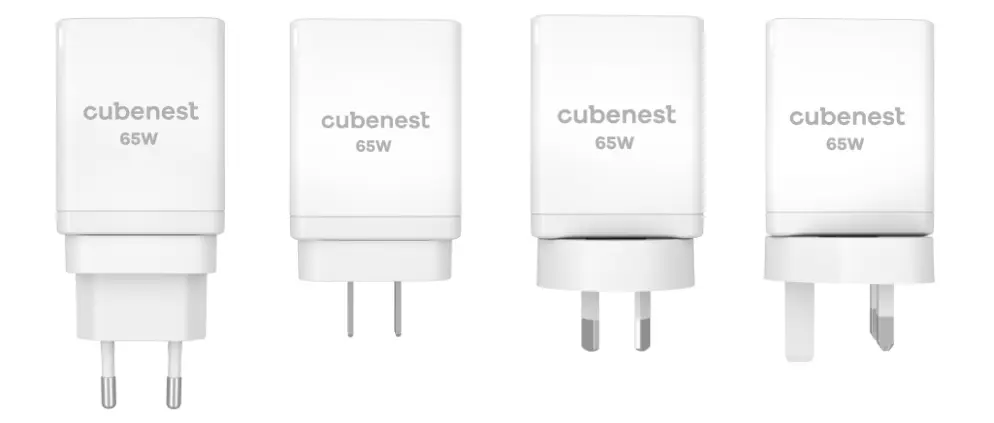 The journey around the world can begin! This travel charger comes with three USB ports (2x USB-C and 1x USB-A). Its brilliance lies in its ability to be plugged into any socket worldwide. With this charger you can effortlessly travel the globe - all you need is a single charger to fit any socket anywhere in the world. 
The charger uses the latest GaN technology instead of traditional silicon semiconductors, allowing faster charging with higher efficiency. The charger provides a maximum power of up to 65W and can even charge a MacBook Pro 13".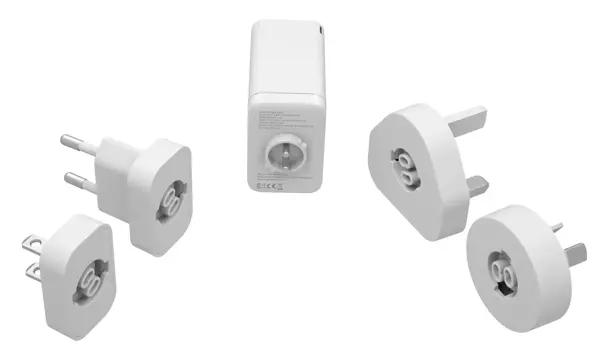 Light, compact, multi-purpose and most importantly - powerful. Fort ravelling or for work. That is Cubenest Premium charger with three USB ports (2x USB-C1 and USB-A) and PD 3.0 technology.
Product parameters:

Power distribution
Input: AC 100-240V~50/60Hz 1.5A
Output USB-C1: 5V=3A, 9V=3A, 12V=3A, 15V=3A, 20V=3.25A
Output USB-C2: 5V=3A, 9V=3A, 12V=3A, 15V=3A, 20V=3.25A
Output USB-A: 3.4-5.5V=5A, 5V=3A, 9V=3A, 12V=3A, 20V=3A
Parameters
Charger dimensions without an adapter: 60 x 44 x 29 mm
Charger dimensions with EU adapter: 104 x 44 x 29 mm
Charger dimensions with US adapter: 82 x 44 x 29 mm
Charger dimensions with UK adapter: 90 x 44 x 29 mm
Charger dimensions with AU adapter: 85 x 44 x 29 mm
Weight: 132 g
Over-current, Over-voltage, Over- temperature, Short-circuit Protection
Compatible with fast charging protocols:
PD 3.0, PD2.0, PPS
QC4.0+, QC 3.0, QC2.0
DCP, FCP, SCP, AFC
Apple 2.4, Samsung 2.0
BC1.2, PE2.0, PE1.1
In the box:
travel charger and adapters (EU, US, UK, AU)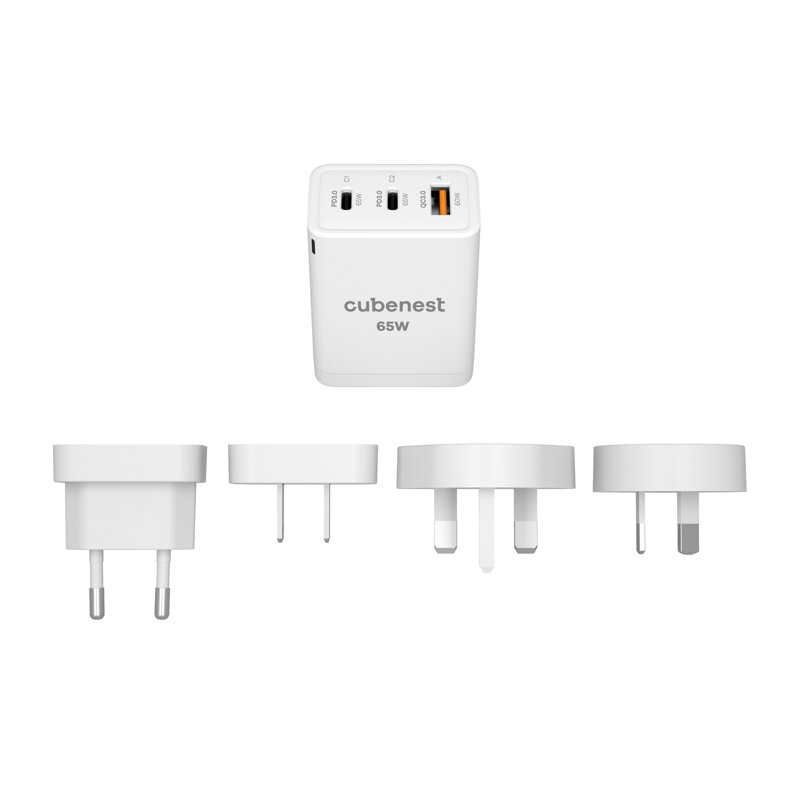 Cubenest Travel PD GaN Adapter 65W S3D1
43,99 €
36,36 € excl. VAT