More power in less time, one charger for all!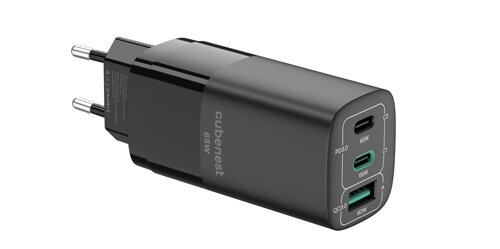 The charger uses the latest GaN technology instead of traditional silicon semiconductors, allowing faster charging with higher efficiency. The charger provides a maximum power of up to 65W and can even charge a MacBook Pro 13".
Light, compact, multi-purpose and most importantly - powerful. For work or for travelling. That is Cubenest Premium charger with three USB ports (2x USB-C1 and USB-A) and PD 3.0 technology.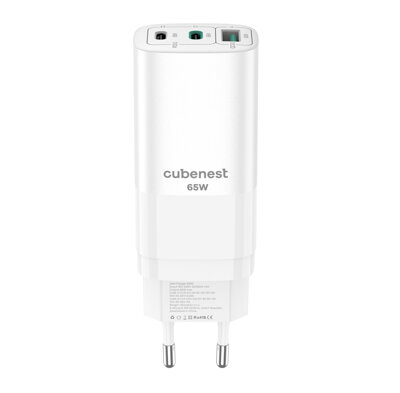 Cubenest brings innovation, convenience and reliability. Accessories designed by this brand put emphasis on details and manufacturing and are a handy companion at home, in the office or when travelling.
Product parameters:

Power distribution
Input: AC 100-240V~50/60Hz 1.5A
Output USB-C1: 5V=3A, 9V=3A, 12V=3A, 15V=3A, 20V=3.25A
Output USB-C2: 5V=3A, 9V=3A, 12V=3A, 15V=3A, 20V=3.25A
Output USB-A: 3.4-5.5V=5A, 5V=3A, 9V=3A, 12V=3A, 20V=3A
Parameters
Product Dimensions: 39 x 33 x 114 mm
Weight: 132 g
Over-current, Over-voltage, Over- temperature, Short-circuit Protection
Compatible with fast charging protocols:
PD 3.0, PD2.0, PPS
QC4.0+, QC 3.0, QC2.0
DCP, FCP, SCP, AFC
Apple 2.4, Samsung 2.0
BC1.2, PE2.0, PE1.1
In the box:
PD charger, USB-C to C cable (1 meter)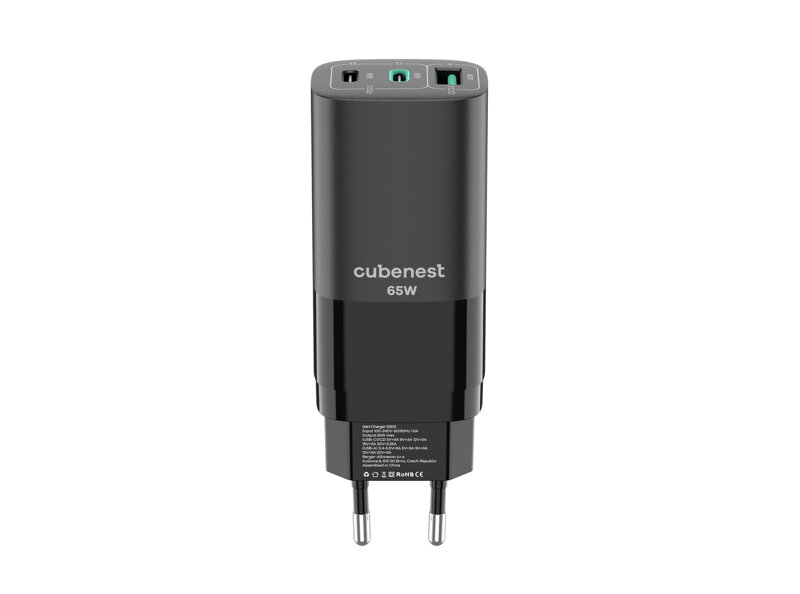 Cubenest PD GaN Adapter 65W S3D0
37,99 €
31,40 € excl. VAT