Magnetic Wireless Car Charger S1C1
is a one-handed operation car charging mount, it simplifies to power your iPhone by magnetic charging alignment and phone hold while driving.
In the Box
S1C1 Magnetic Car Charging Mount
Air Vent Clip
USB-C to C Cable 1 Meter
Requires
Car Power Adapter 15 watts or higher - not included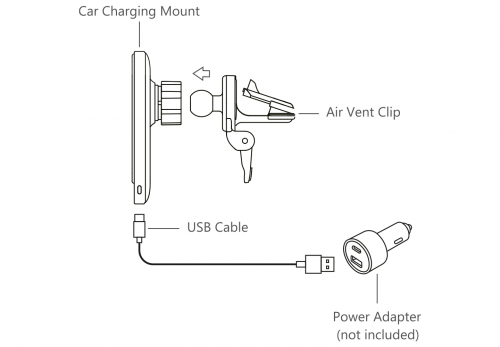 Wireless Charger Parameters
Input: 5V=2A, 9V=2A
Output: 5W/7.5W/15W max
Main Material: High-Grade Zinc-Alloy, Aluminium + Fabric, Aluminium + Leather
Compatibility: works with iPhone with MagSafe
Safety Protection: Over-current, Over-voltage, Over-temperature, Short-circuit Protection
Steps to use
Wireless charging may not work properly if you have attached a thick case to your iPhone.
1. Assemble the car charging mount with air vent clip.
2. Use the clip to secure the assembled charging mount onto car air vent.
3. Connect the assembled charging mount to car power adapter, the indicator LED lights up.
4. Place your iPhone on the charging mount to start
charging, the indicator LED turns in breathing mode.
Magnetic Mount - works with iPhone 12 Pro Max, iPhone 12 Pro, iPhone 12, iPhone 12 mini, iPhone 13 Pro Max, iPhone 13 Pro, iPhone 13, iPhone 13 mini, iPhone 14/Pro/Pro Max/mini, iPhone 14, iPhone 14 Plus, iPhone 14 Pro, iPhone 14 Pro Max, iPhone 15 Pro Max, iPhone 15 Pro, iPhone 15 Plus, iPhone 15
5. Disconnect the charging mount from car power adapter after fully charged, the indicator LED turns off.
Warning Notifications
● DO NOT use uncertified power adapter or USB cable.
● DO NOT expose to liquids.
● DO NOT place any metallic labels or any objects onto the charging mount.
● DO NOT place near heated surface.
● If possible, TURN OFF the ventilation grille in which the charger is placed!