Magnetic Wireless PowerBank S1B0
The Premium S1B0 is compact and portable wireless power bank, it snaps onto your iPhone via magnets and starts charging via wireless, you will never need to carry cable in your pocket ever again.
In the Box
S1B0 Wireless Power Bank
USB-C to C Cable 1 meter
Requires
Power Adapter 18 watts or higher for recharging - not included
Power Bank Parameters
Capacity: Li-Polymer Battery 5000mAh 3.7Vdc/18.5Wh Type-C Input: 5V 3A 9V 2A 12V 1.5A
Type-C Output: 18W max
Wireless Output: 15W max
Type-C + Wireless Output: 15W max
Main Material: High-Grade Aluminium
Compatibility: Works with iPhone 15/Pro/Pro Max/Plus, iPhone 14/Pro/Pro Max/Plus, iPhone 13/Pro/Pro Max/ mini, iPhone 12/Pro/Pro Max/mini, AirPods Pro 2/3/Pro/2 and Other Qi-enabled Phone.
Safety Protection: Over-current, Over-voltage, Over-temperature, Short-circuit Protection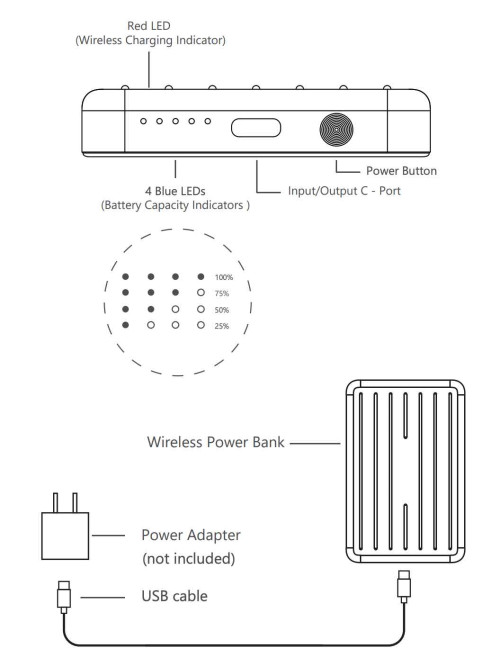 Charging the Power Bank
start charging - connect USB cable to the Power Bank and power adapter (purchase separately), the charging will start automatically.
stop charging - disconnect USB cable, the charging will stop.
Charging Device
● Wireless charging may not work properly if you have attached a thick case to your device.
● When wireless charging and cable charging are on work at same time, respective charging power will reduce.
● The aluminium-made case releases heat in fast charging.

start wireless charging - press power button once to start charging.
stop wireless charging - remove device from the Power Bank to stop charging.
start cable charging - connect USB cable to start charging automatically.
stop cable charging - disconnect USB cable to stop charging.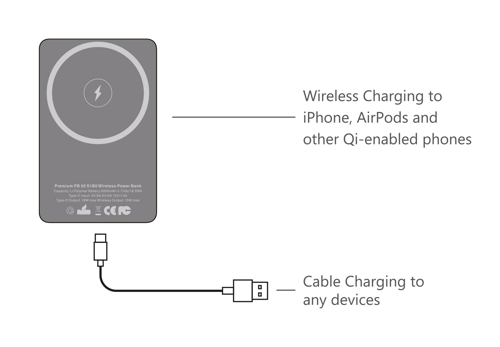 ! For an ideal and fast charging of the battery of the charged device, we recommend to disable the optimized charging in the device, which could cause disconnection of the charging from the PowerBank. By having the Power Bank with an automatic shut-off function, it would not subsequently automatically reconnect to charge without manually switching on the PowerBank.
Warning Notifications
● Perform full charging maintenance the power bank if the power bank has not been used for over 5 months to prolong the battery's life.
● DO NOT use uncertified power adapter or USB cable.
● DO NOT place any metallic labels or any objects onto the power bank.
● DO NOT place near heated surface.
● Use in room temperatures.