Aluminium stand for HomePod Mini S0H0
The tripod stand S0H0 elevates your HomePod mini to enhance sound delivery & quality.
Product Parameters:
Weight: 250 g
Dimensions: 86 x 37 x 65 mm
Base Material: Aluminium
Leg Material: Solid wood
Steps to use
1. Assemble 3 legs into the base manually.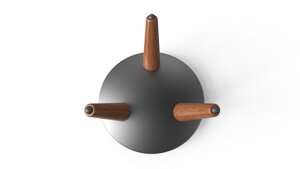 2. Place HomePod mini at top center of the base.