Magnetic stand for iPad Mini S022
Cubenest's Premium Pad Stand create perfect desktop use for Apple iPad whenever you are on work, entertainment and in the kitchen.
S022
Dimensions: 196 x 94 x 206 mm
Weight: 454 g
Main Material: High-Grade Aluminium + PC
Compatibility: iPad mini 8.3-inch 6th Generation
Steps to use
1. Attach iPad in right orientation onto the Pad Stand, keep iPad camera to the top-left when Cubenest logo sits in center bottom.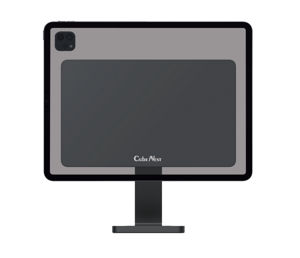 * Reverse placement will fail magnet alignment and drop iPad inevitably.
* Non-magnetic case and thick case will reduce magnetic capability and drop iPad inevitably.
2. Adjust to the perfect viewing angle when use.