Magnetic, elegant, multipurpose!

This charger is the perfect combination of design and technology. It combines elements of high quality teak wood and brushed metal to give it a unique look and take your Apple gear to the next level. Choose the combination that best suits your needs - whether it's an iPhone, Apple Watch or AirPods. With cutting-edge technology and innovative design, you can charge two devices simultaneously with MagSafe compatibility.
The charger supports fast charging for Apple Watch 7th, 8th and 9th generation and Apple Watch Ultra 1st and 2nd generation. The flip-up charger conveniently charges your Apple Watch with all types of bracelets.

Most of us wants to protect their phones and camera lenses with a case. Some cases do not fit perfectly on flat surface chargers. We've developed the raised charging pad that you can achieve perfect magnetic alignment even if your phone has a lens protection case.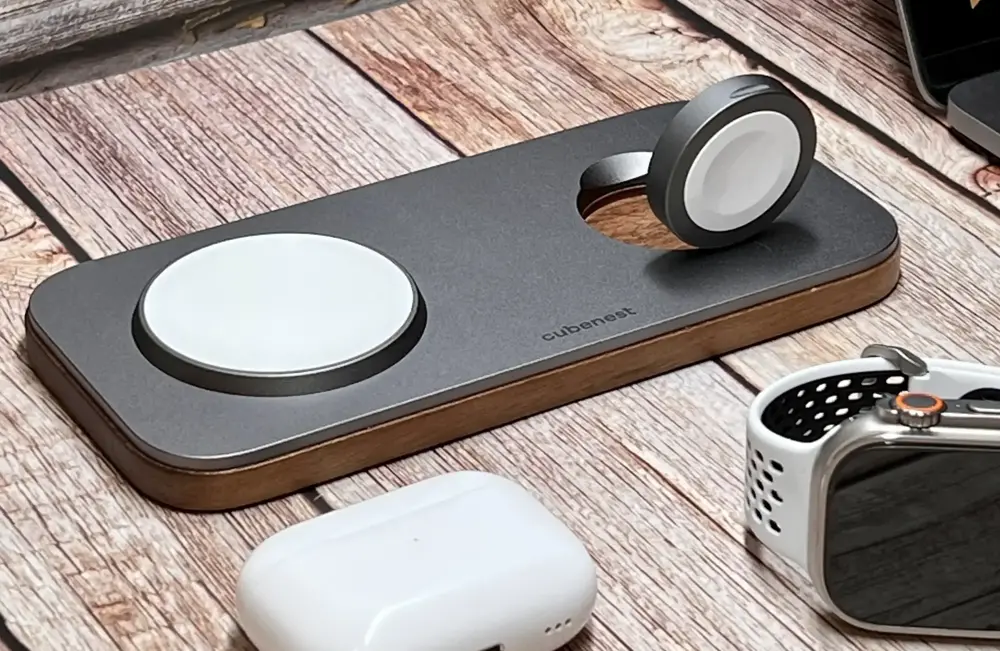 Elegant wooden design
The wood gives the product a unique charm. Its natural and simple design is perfectly combined with any style of interior from modern to traditional. No matter where you place it, this wooden charger will undoubtedly elegantly complement and enhance the surrounding environment. Whether in the living room, bedroom, kitchen or the office, the charger will always fit in and become a beautiful and practical addition to your living or working space.
Non-slip pad ensure stability when using the phone. A strong magnet firmly holds your phone during and after charging. The device also automatically stops charging when your phone or headphones are fully charged.
It also charges AirPods
Both charging pads are designed to seamlessly charge your AirPods. It's up to you whether you choose to combine them with your iPhone or Apple Watch.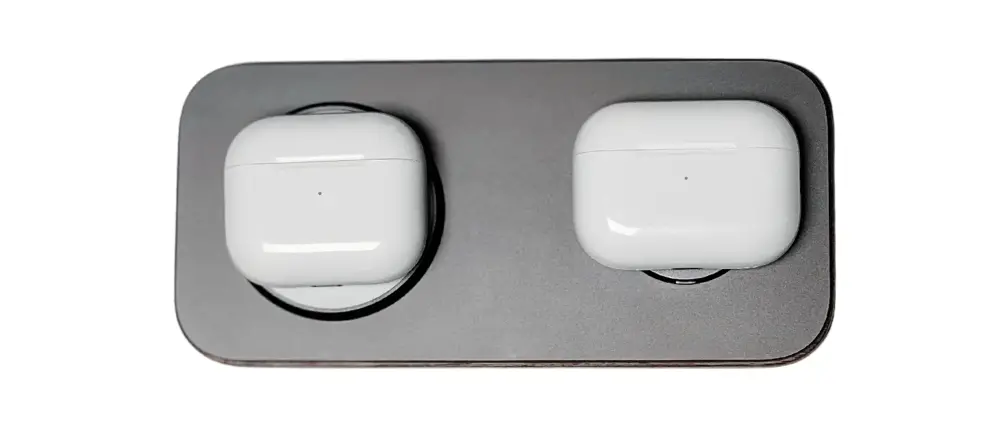 Compatibility:
Magnetic charger: iPhone 12 Pro Max, iPhone 12 Pro, iPhone 12, iPhone 12 mini, iPhone 13 Pro Max, iPhone 13 Pro, iPhone 13, iPhone 13 mini, iPhone 14 Pro Max, iPhone 14 Pro, iPhone 14 Plus, iPhone 14, iPhone 15 Pro Max, iPhone 15 Pro, iPhone 15 Plus, iPhone 15, AirPods 2nd Generation, AirPods 3rd Generation, AirPods Pro, AirPods Pro 2nd Generation and other Qi-enabled devices
Apple Watch charger: compatible with Apple Watch Ultra 2/9/Ultra/8/7/6/5/4/3/2/1/SE 2/SE, AirPods Pro 2nd Generation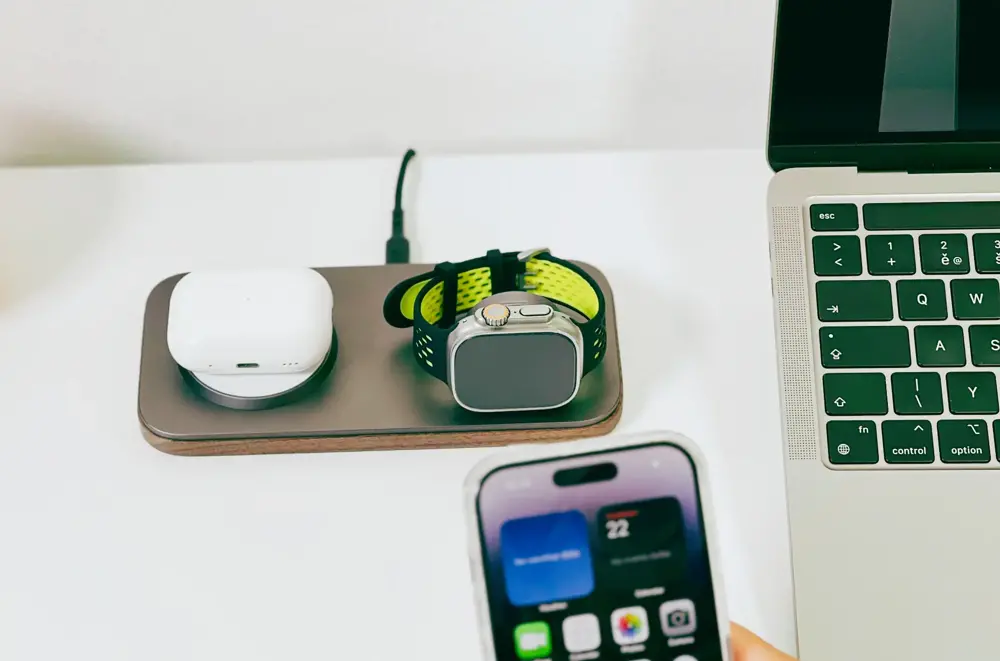 Parameters
Input: 5V/2A, 9V/2,22A, 12V/3A
Output: 5W/7,5W/15W/20W
(the charger will charge your iPhone and other smartphones up to 15W and Apple Watch up to 5W)
Compatible with all devices supporting wireless charging technology
Safety protection: Over-charge, Over-Voltage, Over-heat, Short-circuit
Weight: 296 g
Dimensions: 178 x 83 x 17 mm
In the box
Wireless magnetic charger 2in1, 20W PD adapter, 60W USB-C to USB-C cable (1m)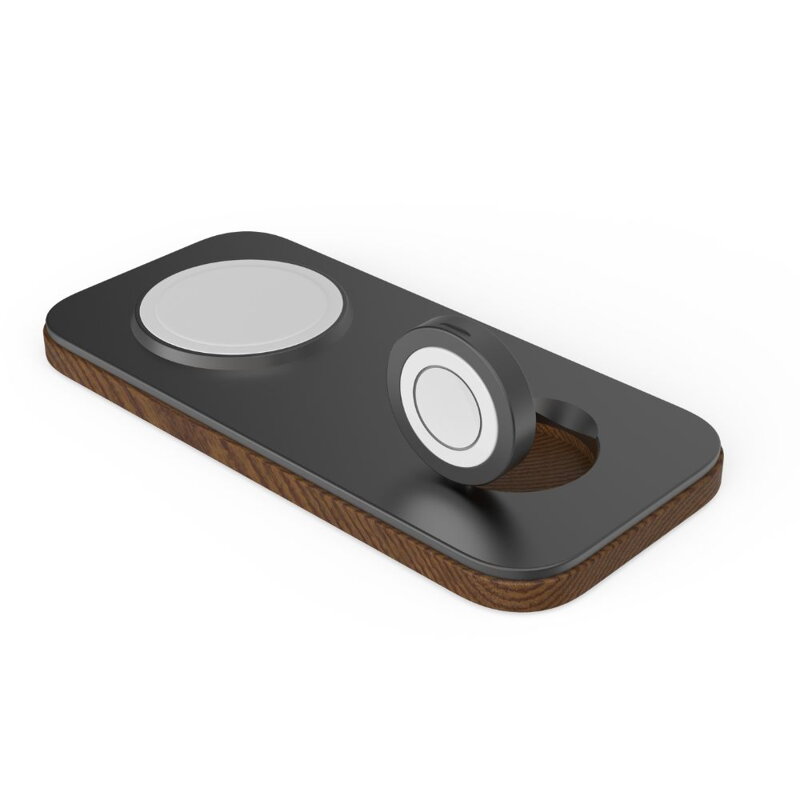 Cubenest 2in1 Magnetic Wireless Charger K200
79,99 €
66,11 € excl. VAT