Magnetic, solid, multipurpose!

CubeNest brings innovation, convenience and reliability. Accessories designed by this brand put emphasis on details and manufacturing and are faithful companion at home,
in the office or during travelling.
CubeNest 2in1 Wireless Magnetic Charger is designed to charge two devices simultaneously.
Charge two phones or your phone and wireless headphones at the same time quickly and conveniently. The product is MagSafe compatible, but it can be used not only by Apple users.
Low center of gravity and a non-slip pad ensure stability when using the phone.
A strong magnet firmly holds your phone during and after charging. The device also automatically stops charging when your phone or headphones are fully charged.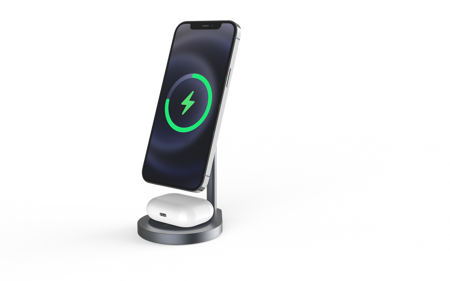 360° rotation - phone in portrait or landscape mode
Convenient for daily activities...
On the bedside table, in the office during conference calls, in the kitchen when viewing video recipes and many more...
You'll always have your phone display in sight so you won't miss any notifications or incoming calls. The body of the stand looks elegant and takes up minimal space on your desk.
Charges also AirPods!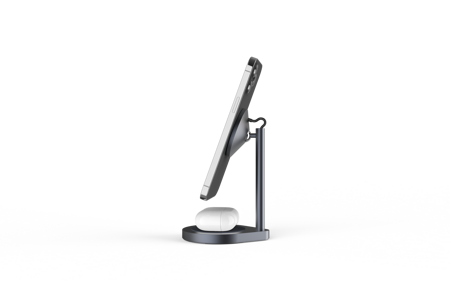 MagSafe compatible
Compatible with:
iPhone 12 Pro Max
iPhone 12 Pro
iPhone 12
iPhone 12 mini
iPhone 13 Pro Max
iPhone 13 Pro
iPhone 13
iPhone 13 mini
iPhone 14
iPhone 14 Plus
iPhone 14 Pro
iPhone 14 Pro Max
AirPods 2nd Generation
AirPods 3rd Generation
AirPods Pro
AirPods Pro 2nd Generation
Wireless charging pad is compatible with all Qi-enabled devices
(Use MagSafe compatible accessories such as phone case for other phone models)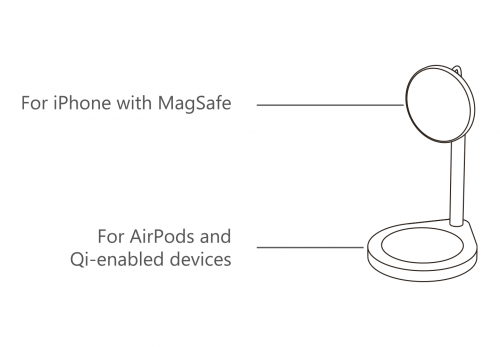 PARAMETERS
Input: 5V/2A, 9V/2,22A
Output: 5W/7,5W/15W/18W Max
(the charger will charge your iPhone and other smartphones up to 15W)
Requires power adapter 15W or higher
Safety protection: Over-charge, Over-Voltage, Over-heat, Short-circuit
In the box:
Wireless magnetic charger 2in1, 20W PD adapter, USB-C to USB-C cable (1m)